KazTransGas JSC has celebrated Constitution Day and Oil and Gas Workers Day Solemn meeting dedicated to the forthcoming holidays - Constitution Day and Oil and Gas Workers Day has been held in KazTransGas JSC
More than twelve thousand people is working in the national operator group of companies almost in all regions of Kazakhstan. Deputy Chairman of KazMunayGas NC JSC Management Board Kairat Sharipbayev addressed to all of them with congratulations via on line video communication.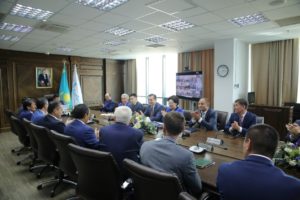 He pointed out that all achievements of Kazakhstan and Kazakhstan people are connected with the Main document of the country. Constitution is a guarantor of independence, unity and stability basing on which we build our future together.
Kairat Sharipbayev also congratulated colleagues with the forthcoming professional holiday – Oil and Gas Workers Day which this year overlaps with 120th Anniversary of Kazakhstan Oil production in Kazakhstan.
"As far as you know, annually the gas industry shows the best results steadily ramping up the production and financial indexes. The domestic gas transportation system became a transit hub for the Middle Asia, driver of the oil&gas sector of the country already today. All these positive trends in the gas industry find support from Samruk-Kazyna and KazMunayGas. Owing to this support, the important infrastructure projects are being realized purposed for opening new routes, increase of transport and transit potential of the country" – said Deputy Chairman of the Management Board of KazMunayGas NC JSC.
As it has been pointed out, one of such projects is the construction of Ustyurt CS at Beineu-Bozoy-Shymkent gas pipeline which will allow to transport gas steadily in the volume up to 15 BCMA.
Deputy Chairman of KazMunayGas Management Board emphasized that domestic gas workers may be proud that realizing such grand projects, they make significant contribution to development of Kazakhstan economy.
Today 9 mln. people use the natural gas, more than 45 thousand of gasified enterprises develop its production.
The global stature of the National operator grows, such agencies as Standard & Poor's and Fitch Ratings highly assess the ratings of KazTransGas. Moody's Agency has raised the baseline credit assessment of KazTransGas and Intergas Central Asia JSC by one level. This all means that the creditability of the group of companies is very high.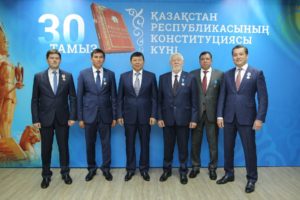 The solemn ceremony was continued by presentation of awards and Certificates of merit to the best workers of gas industry. This year more than 1200 employees of the National operator KazTransGas JSC group of companies were presented with the departmental awards, medals and certificates of merit. More than 140 awards were presented to veterans of the industry whose labor became a foundation of today's achievements of the country gas industry.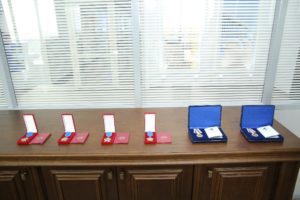 WITH ALL MY HEART, I CONGRATULATE THE COLLEAGUES WITH THE WELL-DESERVED HONOURS!
Press-service of KazTransGas JSC